Info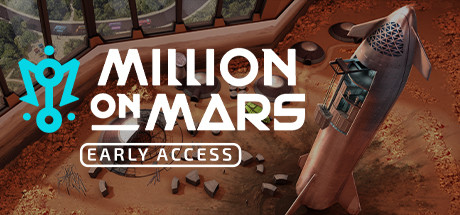 Steam link: https://store.steampowered.com/app/1509770/
Short Description: Million on Mars is an MMO open sandbox city-builder, where you decide on your homestead's location, and build out your settlement on the highest-fidelity terrain available in a game! Painstakingly created from topographical data from NASA/JPL, your location is as close to reality as you can get.
Platforms:
Publisher: Million on Mars Inc.
Developer: Million on Mars Inc.
Release: Summer 2021 🚀 Early Access Coming Soon
Price: N/A
Reviews: N/A
Score: N/A
Followers: 51
Tags: Base Building Building City Builder Colony Sim Crafting Early Access Exploration Management Mars Massively Multiplayer Mining Open World Realistic Sandbox Science Sci-fi Simulation Space Sim Strategy Trading
Genres: Early Access, Massively Multiplayer, Simulation, Strategy
Revenue
Revenue Estimate: ~$ N/A